directions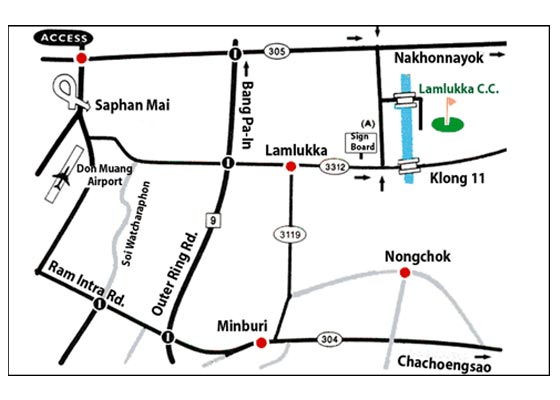 From Vibhavadi Rangsit
Drive North past Don Muang airport a few kilometers and take the exit for Lam Luk Ka. (Sign Posted)

When you drive down the loop over get in the left hand lane and turn left to Lam Luk Ka. (Sign Posted)

Drive straight until you pass through all towns and appear to heading out in the middle of nowhere.

Turn left after approximately 27 km's where you will see a large (but not huge) green sign for Lam Luk Ka Country Club on the left hand side of the road.

Drive approx. 5.5 kms, then turn right at another green sign. Cross over a bridge and then turn right again.

Drive straight for another km and turn left into the course entrance
From The Outer Ring Road to Bang-Pa-In
Take the turn off to Lam Luk Ka (Sign Posted) and turn right onto Lam Luk Ka Road.

Turn left after approximately 14.7 km's where you will see a large (but not huge) green sign for Lam Luk Ka Country Club on the left hand side of the road.

Drive approx. 5.5 kms, then turn right at another green sign.

Cross over a bridge and then turn right again.

Drive straight for another km and turn left into the course entrance.
Please call the course at Tel: 02 995 2300-4 if you have trouble finding the course